SEO and how to optimize your Product Review posts. In this video we'll go over some simple tips to help you get your post ranking for the money phrase.
Share on Facebook
In this video we'll look at some of the tools that will help you create your profitable websites.
Here are links to the resources…
Share on Facebook
Dude, I hate my job is a new system, developed by a very bright (and very young) internet marketer. In this video review we'll cover some of the details of the program. Watch this video to learn more
Share on Facebook
Looking to create unique versions of an article?
Then Magic article rewriter might just be the tool you need.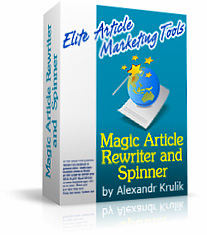 Magic Article Rewriter is a relatively new piece of downloadable software that helps you do just that. This cool little application runs on your own computer. You input your original article, then using the nifty interface you swap out various words and sentences.
Once done adding the different words/sentences you click the "Spin" button and the software generates up to 1,000 unique versions of your article.
If you've ever used an article spinner before then you know the problem has always been that it is so tedious to put the swap words in. You would have to input a list of word/sentence variations using cryptic characters as delimiters. Miss a delimiter and your whole batch of articles is corrupt.
The menu driven nature of Magic Article Rewriter is what sets it apart.
Simply highlight a word that you want to replace and the software automatically brings up a list of synonyms, select the once you want to use and click the "replace" option. Immediately, the variations are added to the article.
Cool Feature: Select the "Replace All" option and the software will replace all instances of that word you selected variations.
Your articles can be output either individually or output all at once in separate text files.
The articles are all human-readable and suitable though some can be a little clumsy to read, however the quality of the articles is greatly dependant upon the amount of variation you are using.
Lastly, if you're interested in Magic Article Rewriter – check out my Bonus Offer for purchasing through my Affiliate Link:  Click Here!
Share on Facebook
Jerry West is one of the Internet's top Search Engine Marketers. I just saw this post he added on Father's Day. Here's some great buisness insight we can learn from Jerry's childhood neighbor -a piano salesmen. Read on…
Share on Facebook